95% Less Nicotine Than Other Cigarettes
Less Nicotine. More Control.
Coming soon to a store near you!
VLN® is the first cigarette in the world that is not designed to create or sustain nicotine addiction.
Public Health Agencies have understood the enormous potential benefits to society of reducing cigarette nicotine content to non-addictive levels. In a 2019 TED Talk*, the U.S. Food and Drug Administration's (FDA) Director of Center for Tobacco Products Mitch Zeller explains the need "to create the cigarette of the future, that is no longer capable of creating or sustaining addiction."
VLN® uses 22nd Century Group's proprietary tobacco developed, bred, and grown in the U.S. to deliver America's lowest nicotine content cigarette with 95% less nicotine than America's leading brands.
VLN® cigarettes are made from 22nd Century's proprietary reduced nicotine tobacco. The FDA has authorized the commercial sale of our reduced nicotine content cigarettes; the first and only cigarette product to receive this status. With over a decade of commitment and research towards reducing the harm caused by smoking, we have been pioneering and collaborating with public health organizations, to deliver a product that can truly help you smoke less.
*March 2019, Mitch Zeller J.D., TEDxMidAtlantic, "The past, present and future of nicotine addiction."
True smoking satisfaction in a non-addictive cigarette.
VLN® smokes, smells, and tastes like a conventional cigarette and uses our U.S. grown tobacco which has 95% less nicotine straight from the plant. For decades, Big Tobacco has manipulated, engineered, created, and marketed products with the intention to create and sustain addiction to nicotine. For the past two decades, our world-class scientists have been working on a product that is the exact opposite.
<0.5mg of nicotine per cigarette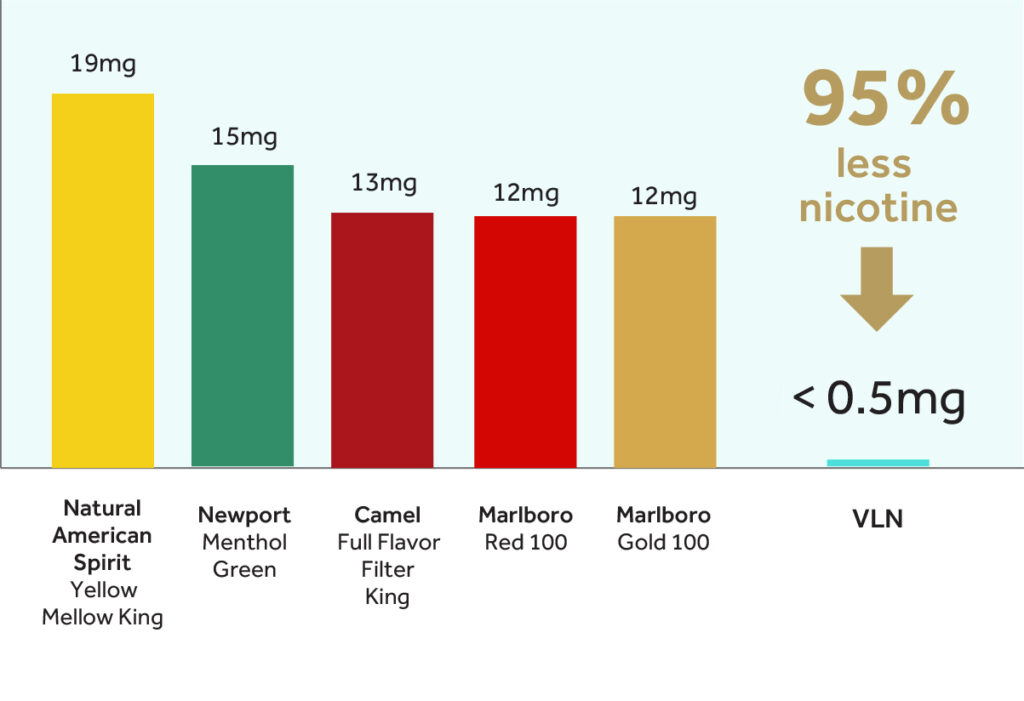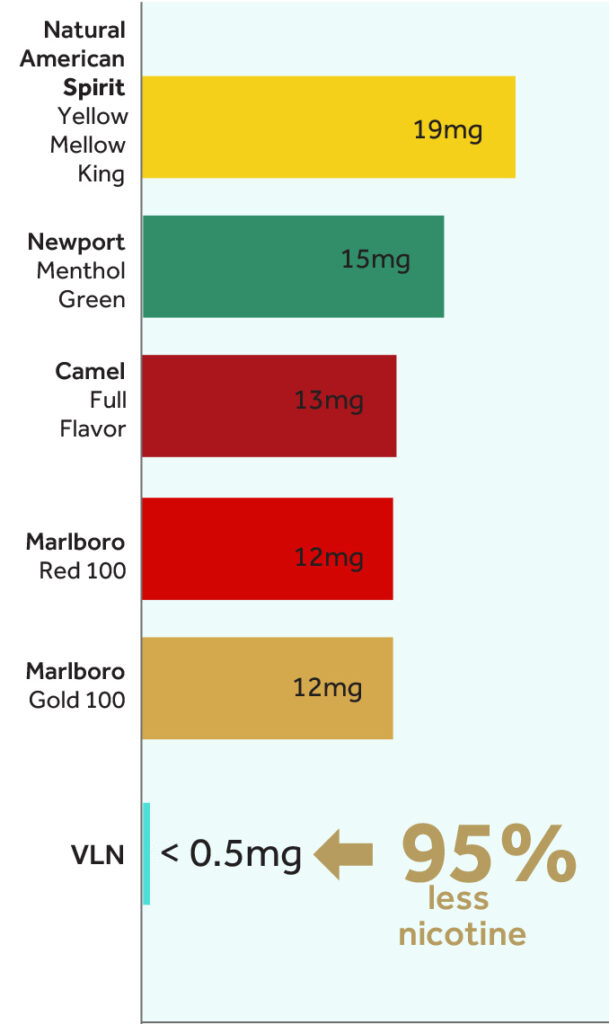 Join the 95% Less Nicotine Revolution
Are you interested in learning more about VLN®?
22ND CENTURY GROUP, Inc. (NASDAQ: XXII)
22nd Century Group is a leading agricultural biotechnology company focused on technologies that alter the level of nicotine in tobacco plants and the level of cannabinoids in hemp/cannabis plants using a range of advanced/state of the art modern plant breeding techniques. 22nd Century Group, Inc is a U.S. business, with its Head Office in Buffalo, NY, and production and research facilities in North Carolina and Maryland.
Welcome to VLN
®
You must be 21+ to enter this website. Please enter your birthdate below.